Normal Skin
ADVANCED SKINCARE FOR NORMAL SKIN
Normal skin has an ideal balance between oil and hydration levels; therefore skin is neither greasy nor dry. SkinCeuticals offers cleansers, toners, antioxidants, moisturizers, sunscreens, and other targeted products designed to maintain and improve the appearance of normal skin.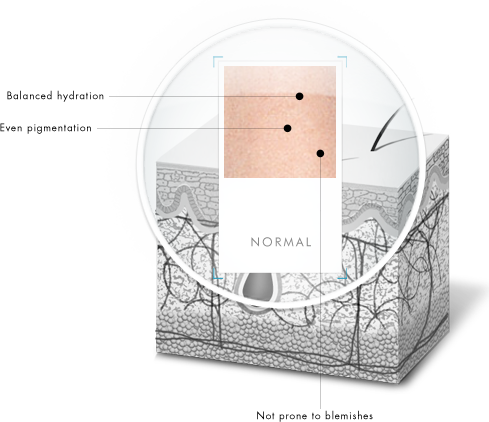 An occlusive, hydrating balm for compromised or very dry skin.

A high-concentration pure retinol cream for experienced retinol users to improve the appearance of visible signs of aging and pores while minimizing breakouts.

This product has been discontinued. We recommend you try Daily Moisture face moisturizer for oily skin.

A nighttime skin-refining face moisturizer enhanced with a hydroxy acid blend for gentle exfoliation and hydration.

Intensely hydrating weekly gel mask to help in the replenishment of moisture levels.

Exfoliating toner helps refresh skin and smooth skin texture while removing excess residue.

Clarifying toner softens and refreshes skin with a hydroxy acid complex to refine skin texture and minimize pores.

Tri-functional corrective treament addresses early to advanced signs of visible neck aging by reducing the appearance of horizontal neck lines and neck skin crepiness.

Best selling Metacell Renewal B3 and Hydrating B5 Gel are proven to improve signs of aging and hydrate the skin. Now featured together in a limited edition Microneedling Prep Pack. Valued at $195 save 9.75%.

Best selling C E Ferulic® and Hyaluronic Acid( HA) Intensifier clinically proven to fight visible signs of aging now featured in a limited edition Injectable Prep System. Valued at $266.00

Best selling Glycolic Renewal Cleanser and Glycolic 10 Renew Overnight are clinically proven to promote cellular for glowing skin. Now featured together in a limited edition Chemical Peel Prep System with Physical Fusion UV Defense SPF 50 for daily sun protection. Valued at $152 save 7.6%.

Best selling A.G.E. Eye Complex and Physical Eye UV Defense are clinically proven to correct skin aging and protect skin from daily sun exposure. Now featured together in a limited edition set with AOX Lip Repair to smooth the lips surface. Valued at $166 save 8.3%.