Acne Products
Advanced Skincare for Acne
While the exact cause of acne is unknown, excess sebum production, inefficient desquamation, hormones and stress are contributing factors. SkinCeuticals acne products fight the production of excess oil and help reduce pore-clogging dead cell buildup to help improve the appearance of existing and past blemishes, as well as prevent future breakouts.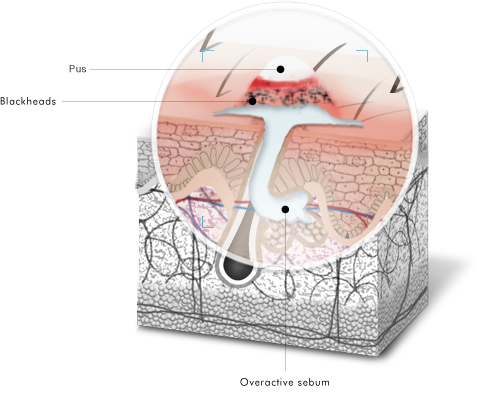 Best selling Metacell Renewal B3 and Hydrating B5 Gel are proven to improve signs of aging and hydrate the skin. Now featured together in a limited edition Microneedling Prep Pack. Valued at $195 save 9.75%.

Best selling LHA Cleanser and Blemish + Age Defense are clinically proven to fight acne. Now featured together in a limited edition set with Phyto Corrective Gel to calm and hydrate the skin. Valued at $220 save 11%.

Dual-action chemical and mechanical exfoliating cream effectively purifies while removing surface dead skin cells to refine texture, brighten skin, and clear acne blemishes.

This oil-free serum simultaneously exfoliates skin and replenishes moisture for radiant, smooth, skin.

An oil-free face serum that reduces the formation of adult acne, and improves visible signs of aging.

A patented daytime vitamin c antioxidant face serum that delivers advanced environmental protection and diminishes the appearance of fine lines and discoloration. U.S. Patent No. 9,248,082.

Conditioning cleansing gel with glycolic acid helps smooth skin texture while gently foaming to refresh skin and remove impurities.

Purifying treatment to decongest pores and remove excess oil.

A face moisturizer that provides normal to oily skin with lightweight, long-lasting hydration as it helps minimize the appearance of pores.

Exfoliating gel cleanser decongests pores, smoothes skin texture, and brightens skin.

Glycolic acid toner to help get rid of clogged pores and remove surface dead skin cells with lipo-hydroxy acid.

A daytime topical vitamin C serum provides advanced environmental protection and diminishes the appearance of skin discoloration and fine lines, for overall tone improvement and smoothness.