PREVENT PROTECT
CORRECT
ADVANCED SKINCARE BACKED BY SCIENCE
To maintain and improve skin health, an effective skincare regimen must contain three fundamental elements: Prevention, Protection, and Correction. Designed to prevent signs of future damage, protect healthy skin, and correct the appearance of previous damage, SkinCeuticals is committed to advanced skincare products that are backed by science.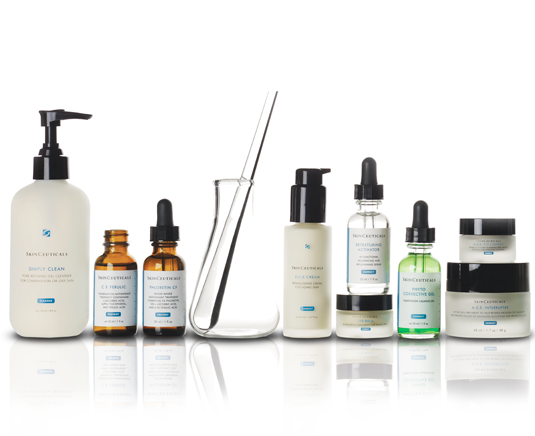 A concentrated night cream with pure retinol improves the appearance of visible signs of aging and pores while minimizing breakouts

Therapeutic moisturizing cream that protects and soothes compromised skin

Cooling fluid body treatment to help tighten and firm the appearance of skin.

Gel treatment for the body exfoliates and hydrates simultaneously to resurface dull, rough skin.

Emollient treatment helps improve environmental damage, while smoothing and refining the lips surface

A broad spectrum 100% physical sunscreen for post-procedure, sensitive skin, and very dry skin.

A broad spectrum sunscreen specially designed for active and extreme conditions including full marathons.

A hydrating, soothing gel with botanical ingredients to help diminish discoloration.

A 100% mineral, tone-enhancing tinted sunscreen formulated for the delicate eye area.

Oil absorbing protective base.

A daytime introductory vitamin C serum for sensitive skin that offers environmental protection and improves the appearance of aging.

Anti aging treatment cream to refill cellular lipids and nourish dry skin.