Moisturizers
MOISTURIZING SOLUTIONS FOR ALL SKIN TYPES
SkinCeuticals moisturizers are carefully formulated with multi-functional ingredients that hydrate and nourish skin to restore the appearance elasticity. Designed for all skin types and available in serums and creams, these moisturizers provide optimal skin hydration.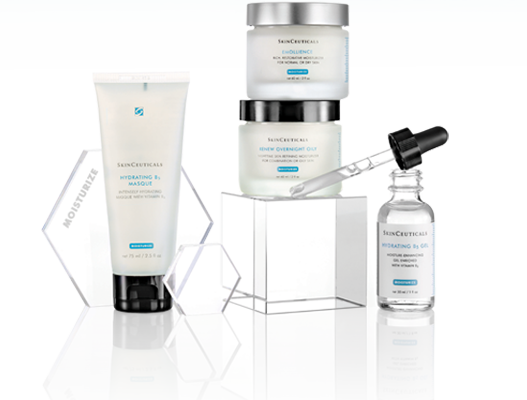 An occlusive, hydrating balm for compromised or very dry skin.

This product has been discontinued. We recommend you try Daily Moisture face moisturizer for oily skin.

A nighttime skin-refining face moisturizer enhanced with a hydroxy acid blend for gentle exfoliation and hydration.

Intensely hydrating weekly gel mask to help in the replenishment of moisture levels.

Best selling Metacell Renewal B3 and Hydrating B5 Gel are proven to improve signs of aging and hydrate the skin. Now featured together in a limited edition Microneedling Prep Pack. Valued at $195 save 9.75%.

Best selling C E Ferulic® and Hyaluronic Acid( HA) Intensifier are clinically proven to fight visible signs of aging. Now featured in a limited edition set with Triple Lipid 2:4:2 to nourish skin. Valued at $394 save 19.7%.

Dual-action face wash for combination skin with a ceramide complex deeply cleanses and locks in hydration to leave skin feeling replenished.

A multi-functional corrective serum to help amplify skin's hyaluronic acid levels.

Nourishing facial moisturizer restores and maintains daily moisture for normal to dry skin.

A face moisturizer that provides normal to oily skin with lightweight, long-lasting hydration as it helps minimize the appearance of pores.

Conditioning cleansing gel with glycolic acid helps smooth skin texture while gently foaming to refresh skin and remove impurities.